Hello and welcome to the LARGEST original art website in the WORLD devoted primarily to the sale, trading, and purchasing of "BABY-BOOMER" Silver Age, Bronze Age, and current era comic book art from the 1960's-present.

Our website has MORE "QUALITY" comic book AND comic strip art for sale from the Golden Age, Silver Age and Bronze Age in QUANTITY, than any website in the WORLD!

There are well over 7500 pieces of art for sale and trade on this website, which is updated WEEKLY with new items all the time! So please "BOOKMARK" this website in your FAVORITES, and SIGN up for our UP TO DATE website updates before anyone else gets them by simply typing your email address at the bottom of THIS HOME page!

We will purchase or trade for one piece or HUNDREDS of pieces of art! Just email us or give us a call anytime!

We LOVE talking artwork, so please feel free to email ANYTIME if you ever have questions about wanting to buy or SELL.

We are ALWAYS BUYING and TRADING for ANY and ALL comic book and strip art from "ANY" characters, from "ANY" era: Covers, Splashes, Pages, Dailies, Sundays...... ALL OF IT from 1930's -- present!

If you are seeking investment artwork for the long-term, (with the stock market fluctuating almost DAILY and investing your hard earned dollars almost a crap shoot these days) it has been PROVEN that ORIGINAL COMIC BOOK ARTWORK has FAR SURPASSED gold and silver, as well as most stock market expert picks since the 1980's and 90s, and most all other mutual funds and commodities in it's investment earnings and future potential growth!
WE WILL SELL YOUR ARTWORK FOR YOU ON CONSIGNMENT (1 PIECE OR ENTIRE COLLECTIONS!!) AND I OFFER VERY FAIR CONSIGNMENT TERMS AND I CAN GIVE YOU "DOZENS" OF REFERENCES IF YOU LIKE, SO YOU ARE INSURED OF MY INTEGRITY IN THIS GREAT HOBBY!!
You have nothing to lose by simply contacting us...but very possibly EVERYTHING to gain!!! (mikeburkey@aol.com)
We will buy or trade for one piece or HUNDREDS of pieces of art!!! I have a reputation as one of the NICEST guys to deal with in this GREAT hobby, SO feel free to email me ANYTIME if you ever have questions about any comic book or strip artwork you may have or want to buy!
We are ALWAYS BUYING and TRADING for ANY and ALL comic book and strip art from "ANY" characters, from "ANY" era: Covers, splashes, pages, dailies, Sundays...... ALL OF IT from 1930s -- present! one piece or ENTIRE collections!
Before you consider taking ANY offer from someone else, contact me before you sell or trade your artwork and You'll be GLAD you did!
SEEKING ANY AND ALL COMICBOOK ART AND COMIC STRIP ART FROM THE 1930s, 40s, 50s, 60s, 70s, 80s TO PRESENT TIME!! JUST EMAIL ME WITH WHAT YOU HAVE!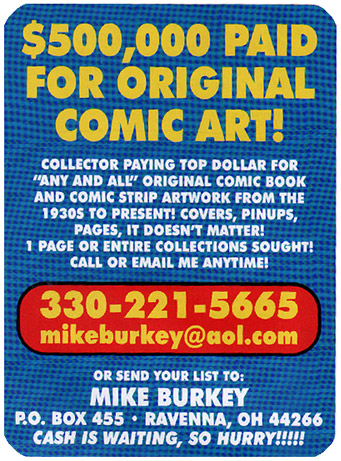 WE ARE SEEKING ART BY ALL ARTISTS, ESPECIALLY THESE ARTISTS:
ART ADAMS
NEAL ADAMS
MURPHY ANDERSON
ROSS ANDRU
DICK AYERS
CARL BARKS
C.C. BECK
BOB BROWN
FRANK BRUNNER
CARL BURGOS
JACK BURNLEY
JOHN BUSCEMA
SAL BUSCEMA
JOHN BYRNE
DAVE COCKRUM
GENE COLAN
REED CRANDALL
JACK DAVIS
STEVE DITKO
WILL EISNER
BILL EVERETT
AL FELDSTEIN
KEITH POLLARD
BRUNO PREMIANI
HOWARD PURCELL
MAC RABOY
FRED RAY
ALEX RAYMOND
JERRY ROBINSON
JOHN ROMITA JR.
JOHN ROMITA SR.
ALEX ROSS
P. CRAIG RUSSELL
MARK SCHULTZ
CHARLES SCHULZ
E. SEGAR
MIKE SEKOWSKY
JOHN SEVERIN
MARIE SEVERIN
CHARLES SCHULZ
JOE SHUSTER
JOHN SIKELA
WALT SIMONSON
JOE SINNOTT
LOU FINE
HAL FOSTER
FRANK FRAZETTA
BURNE HOGARTH
CARMINE INFANTINO
GRAHAM INGELS
BOB KANE
GIL KANE
SAM KIETH
JACK KIRBY
JOE KUBERT
HARVEY KURTZMAN
JIM LEE
JOE MANEELY
TODD McFARLANE
MIKE MIGNOLA
SHELLY MOLDOFF
WIN MORTIMER
JOE ORLANDO
GEORGE PAPP
GEORGE PEREZ
MIKE PLOOG
BARRY WINDSOR-SMITH
DAVE STEPHENS
JIM STERANKO
CURT SWAN
HERB TRIMPE
GEORGE TUSKA
BILL WARD
BASIL WOLVERTON
WALLY WOOD
BERNIE WRIGHTSON
Just email us ANYTIME with what you have for SALE or TRADE and we can try to work something out!
We are always seeking ANY Amazing Spiderman covers and pages from #39-#297, regardless of page content. These artists include John Romita Sr., John Buscema, Gil Kane, Ross Andru, Keith Pollard, Jim Mooney, John Romita Jr. Ron Frenz, Al Milgrom, Tom Morgan, and Alex Saviuk. I am also seeking absolutely ANY Amazing Spiderman original strip art from 1977-1980, as well as any drawings or sketches by John Romita Sr. (published or unpublished) plus any Spiderman memorabilia which includes pre-1985 toys, promo items, memorabilia, or just anything SPIDERMAN related that is unique.